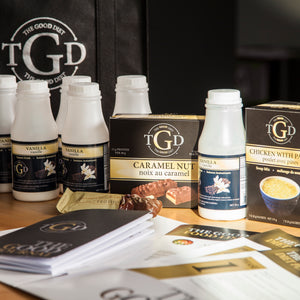 7 Day Complete Cleanse Kit
The Good Diet
Regular price $89.00 Sale
We have created The Good Diet 7 Day Cleanse to help kick-start your weight loss! After just one week you will feel less bloated, more energized and look noticeably lighter. Even better, we've made this 7-day cleanse so easy, with ready-made meals and snacks provided. Try it for one week and lose up to 10 lbs! 
The Good Diet 7 Day Cleanse Includes:
1 week meal plan (delicious, EASY sample recipes provided)
7 shakes
7 soups
7 snacks
You'll eat our shake for breakfast and soup for lunch. For dinner you'll make one of our easy recipes and then you'll snack on veggies, fruit, dairy, and our delicious snackbar. It's so easy and it works!